Entrepreneurial Fireside Chat: Allen Gannett
2000 Pennsylvania Ave NW
7th Floor
Washington
,
DC
20006
United States
GW I+E Lab (at MakeOffice)

Tuesday, November 12, 2019 (5:30 PM - 7:30 PM) (EST)
Join us for a great Entrepreneurial Fireside Chat with a dynamic entrepreneur and author: Allen Gannett, Chief Strategy Officer for Skyword and author of The Creative Curve. Eboné Bell, founder and editor-in-chief of Tagg Magazine, will be the moderator for this event.
This Fireside Chat will focus on issues surrounding entrepreneurs in the LGBT community on campus. We will be focusing on the stories and lessons from Allen's entrepreneurial journey and how students within the community can work to build their startups on campus.
This event is co-sponsored by:
About the Speaker:
Allen Gannett is a leader of data-driven marketing. He founded and served as the CEO of TrackMaven, a marketing intelligence platform that worked with a client list that included Microsoft, Marriott, Aetna, GE and other Fortune 500 companies. In October 2018, TrackMaven merged with Skyword, the leading content marketing platform. His success is attributed to helping brands unlock the science of their social, content, and digital advertising by analyzing millions of pieces of marketing content to uncover actionable patterns. His new book, The Creative Curve: How to Develop the Right Idea at the Right Time, reveals the science and secrets behind achieving breakout commercial success in any field.
About the Moderator: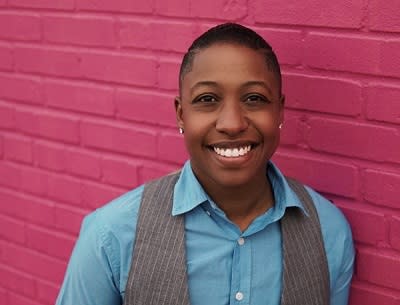 The moderator for this Fireside Chat is Eboné Bell, founder and editor-in-chief of Tagg Magazine and Tagg Communication LLC. After seeing a lack of queer women represented in local publications (around DMV), she decided to start a magazine and website to tell stories, provide resources and create events.
Eboné was recently feature in Forbes Magazine as an "Inspiring Black Entrepreneur Changing Our World."
She has produced such events as the annual Capital Queer Prom giving the older LGBTQ community a second-chance prom, Capital Pride Women's Events, Pride in the Sky, and Put on the Gloves Fashion Show benefitting The Trevor Project, just to name a few. These events have raised over $50,000 for LGBTQ non-profit organizations.
This year Tagg Magazine will celebrate eight years of telling thousands of stories, creating safe-spaces for the queer women, and providing important resources for the LGBTQ community. Over the past three years, Tagg Magazine has been named "Top 25 LGBTQ-Owned Companies" by the Washington Business Journal.
Last year, Eboné founded the Tagg Scholarship Fund—a scholarship created specifically for young queer woman of color who can't afford to attend school. After realizing that only 23% of Black LGBTQ college students graduate, she wanted to make a difference within marginalized communities.
In addition to running a successful business, she shares her knowledge and passion at conferences, festivals, fundraisers, panel discussions, and similar events across the country. She is known as the "go-to woman" for LGBTQ marketing, branding, advertising, activism, and queer women-focused events.
Event Contact:
Van Goodwin
Contact Organization:
Equality Chamber of Commerce | DC Metro Area ECCDC